It is with an immense pleasure that I now introduce for the first time in the United States Le Chocolat Alain Ducasse, created and manufactured in our bean-to-bar chocolate atelier in Paris : La Manufacture de Chocolat. Le Chocolat is born from the desire to return to the source, the very essence of what chocolate is made of : precise, meticulous and creative work. Passionate about the quest for the essential, for flavors that are original, we select our cocoa beans based on purity and personality, sourced from a dozen locations, resulting in as many identities and unique flavors.
As From Roy panettone, our chocolates are carefully crafted to best express the origins and character of the ingredients they are made of. We wish they will bring even more moments of happiness to your homes for the holiday season.
Alain Ducasse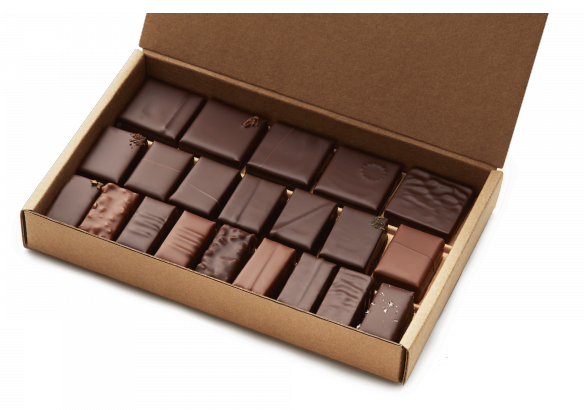 Milk ganaches & pralinés 'à l'ancienne' Box
An assortment of bonbons from Le Chocolat Alain Ducasse that will delight the milk chocolate lovers. To our Single-Origin ganaches (Java, Peru, Madagascar), are added five flavored ganaches (Ginger, Tahitian vanilla, coffee, Passion fruit, Nut and honey almond paste) as well as two Pralinés 'à l'ancienne' (coconut, peanut).
Weight: 180g
21 pieces, 15 flavors
"Best eaten within 3 weeks of purchase"